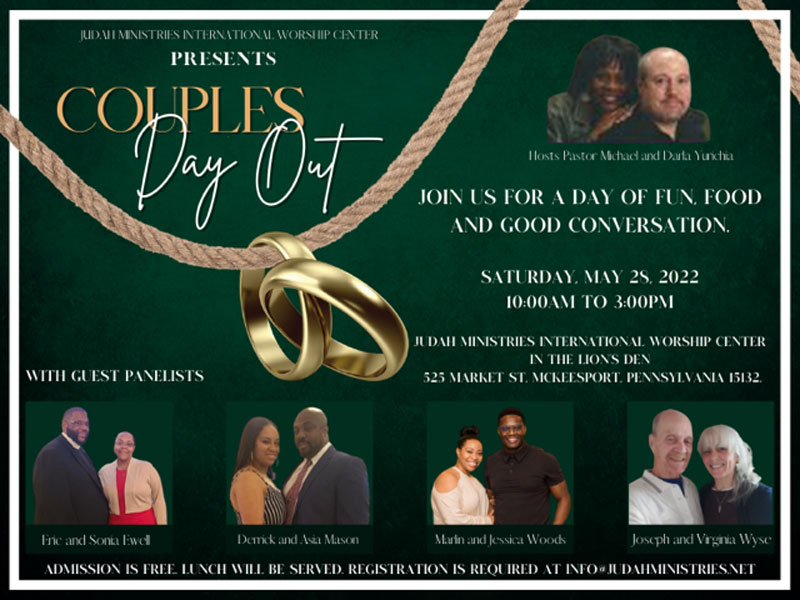 The Judah Ministries International Worship Center will be hosting a "Couple's Day Out" Event on Saturday, May 28, 2022 from 10:00am to 3:00pm.
We are inviting heterosexual married, and seriously dating, couples to join us for a day of encouraging testimonies, games, prizes, and lots of fun.
Our special guests include Eric and Sonia Ewell, Derrick and Asia Mason, Marlin and Jessica Woods and Joseph and Virginia Wyse.
This exciting event is FREE to the Public. It will include a fabulous lunch, desserts and beverages. A love offering will be taken.
Registration is mandatory and can be completed HERE. 
Registration Ends Sat May 28, 2022.
We believe that marriage is the foundation of society and has been instituted by God Himself and that marriage is defined in the Bible between one man and one woman. Gen 2:24, Mat 19:4-6, Mark 10:6-9, Eph 5:31
Therefore we do not recognize, condone or conduct any other marriage other than a marriage defined by the Bible. This meeting designed for those who adhere to this belief and is open only to those who are in heterosexual relationships.